About This Fundraiser
In South East Asia thousands of children do not receive a proper education due to several hardships. Children who have been abandoned / trafficked are even more at risk.
At Lanna Kingdom we want to build a school on site for the children who live in the surrounding community and on the land.
This will provide a safe place to learn, study and grow with accountable are by our staff and house parents.
In order to educate the children on site, we need to build a school building using sustainable but also long term cost efficient  materials.
We can do this together with your love and support.
Recent Supporters
No public contributions have been made to this fundraiser.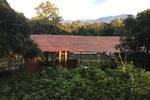 Vision:
To create an environment for transforming lives holistically through the power of the gospel, by having a life on life discipleship environment that allows both non, new and old believers a placed to be equipped for the multiplying work of the ministry of the gospel.
Additionally it will be a safe place for trainings, job skills, education, basic hygiene, livelihoods, housing and care.
Our Goal now that we have land is to raise enough funding build 5 homes and 2 training centers on site by 2025.